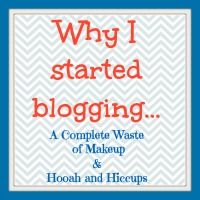 Firstly I love to talk about myself. And unfortunately not a lot of people like listening. So I decided to start blogging so I could share with the world why I spend a good third of my life
watching HSN and QVC.
Secondly I have most of my friends living in different places around the world so I don't go out much. And by much, I mean I never really go out. Like I go to work, school, my boyfriend's restaurant and CVS. But it's not in the sad girl way "I have no friends, I'm lonely" because I do have friends, they just live very far away. So it is nice to be able to share with everyone what I am doing. Even though my friends don't actually have my blog URL. I should send it to them... My bad :/
Thirdly, I like to 'meet' new people and get new ideas. I love seeing and reading what other people are doing with their lives- whether it be DIY, make-up, clothes- whatever. I also am so impressed with how supportive the blogging community is and although I am still really new, I am loving the new blog friends I have already made.
Also blogging is a great outlet for me. I love to write and have a place where I can just word vomit into the world. It's cathartic for me. I have a lot of stress some days with my job and school and life in general and to have a place where I can just wax poetic on BB creams is amazingly therapeutic.
Can't wait to read all the other reasons that people blog... Hopefully they are less shallow than mine!
Happy Tuesday folks!