So it is Sunday which means it also the one day a week I am social. Go link up too!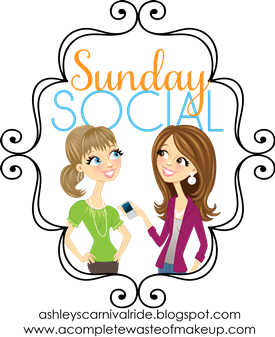 1. What is something you've always wanted to do but are afraid of?
I'm going with sky-diving on this one. Every once in awhile a Groupon or something will pop up and I am like "That would be so awesome!" and I stare at it for 3 to 6 hours and then I'm like "Nahhhhhh" and I always regret it. But the process keeps repeating itself and every time it's a new excuse but I usually blame it on the fact that my insurance plan has about as much protection as a windbreaker from frostbite in Antarctica (who knew Antarctica had TWO 'c's in it? Mind blown). Anywho, I am hoping one day I will grow enough lady balls to actually do it!
2. Where do you see yourself in five years?
In 5 years I will be 29 years old. So I am assume I will be either gracefully accepting my impending 30th birthday by wearing age-appropriate cardigans, pearls and sensible heels OR in a vigorous state of denial and slapping on eye cream every night, wearing leather mini skirts that show my hoohah and inevitable cellulite and weeping over my Master's Degree in a cold, dark room because I can no longer afford electricity because for some godawful reason I decided to become a social worker and be poor forever and ever.
I am hoping (fingers crossed) that I am somewhere in the middle of this spectrum. By 30 I think my eggs will all be dried up so I guess I should try to pop out some MexiJews (hybrid Mexican-Jewish babies. They are a fairly intelligent species and can run pretty quickly compared to their full-breed Jewish brethren but are still significantly slower than their Mexican counterparts due to the wind-resistance created by their massive Jew fros).
Pretty accurate example of what a MexiJew looks like.
3. What are you looking forward to before the end of 2013?
Well seeing as that is 5 months away I hope to be a lot fitter, mildly skinnier and a teensy bit smarter. I hope to be done with my first semester and continue my trend of all A's in Grad School (holla!) and I also am super-duper looking forward to that Hunger Games movie coming out because that is the first book I have read in like 17 years and I am excited to be one of those people in the theatre, commenting on every scene and being like "Um yeah that's not how it was in the book."
4. What are your hopes for your blog?
I hope she's happy, makes good choices and always remembers to use protection.
But seriously, I'm happy with her. She's mediocre- just like her momma. I like the fact only 38 people know about her- I still do not know how those big bloggers do it. More than 3 comments a day and I am like the biggest diva on earth. My ego is far too large to have a bigger blog following- it would be catastrophic for the world.
5. Do you always see yourself living in your current town/city?
PLEASE GOD NO.
Guys I live in a town called "Plainville". Plainville= PLAIN + ville.
I do like living in Massachusetts. We have excellent schools, we are super liberal and love the gays and there is always a guarantee you will live within a 15 minute drive to a Target.
That being said, I have a secret desire to live- even for a year- somewhere in the South. Like most Northerners, I believe the South is like a relic of the past and the good 'ole days. Everyone is sweet, polite, racist (just kidding!)... And also the real estate is dirt cheap so I can live like a king. In Massachusetts $100,000 buys you a 1 bedroom apartment house with a yard just big enough to bury 1 human body (these are actual measurements, too) while $100,000 in like Arkansas can buy me a mini palace and a chauffeur named Charles.
Apparently they also have a lot of fried chicken in the South (again basing all my information on whatever I have seen on TV/heard from my one Southern friend from Tennessee) and I have a feeling I would really enjoy that since I ate a shitton of schnitzel (Jewish version of fried chicken so obviously it's 1000x more Kosher and 1000x less delicious).
6. What is your morning routine?
Ha. What is that? Well I can tell you how my ideal morning would go:
6:30am: My harpist begins her melody to gentle arouse me out of my extremely fulfilling 14 hours of Ambien induced sleep.
6:35am: My house-elf, Shania, comes with my morning hot cocoa and doesn't say a single word because I HATE when people talk to me in the morning.
6:40am: Shania returns with a stack of homemade chocolate chip pancakes and tells me I look beautiful.
7:00am: Shania clears away my pancakes and my harpist begins my "let's get in the shower, girl" song.
My carb-free and zero-calorie pancakes.
7:15am: My shower is over. I didn't need long because I am a naturally clean person and I never need to shave because I am the one, lone naturally hairless Middle Eastern girl except for those luscious locks sprouting out of my head.
7:20am: I am all dry and cue the birds to come in and dress me.
7:30am: I am ready to go! I do not need to wear make-up as I am naturally flawless. John Stamos hands me the lunch he labored over all morning and my harpest, Shania, all the birdies and John wave me goodbye as Charles, my chauffeur, drives me to work.
In reality, my mornings are spent while I am in a half comatose stage so I am not really sure what my morning routine is. I should tape it one day but since Paranormal Activity I am terrified of filming myself in fear I will find out I am haunted or secretly being molested in my sleep and in all honesty, IGNORANCE IS BLISS :)
Happy Sunday guys!