Wasn't I cute back in the day?
Anywho it's Sunday... Which means it's time for Sunday Social and basically I get to answer questions about myself and you pretend you're interested! I wasn't really feeling this week's questions but I put on my big girl pants and did them because otherwise I would just be staring at this wall in front of me for the next 7 hours.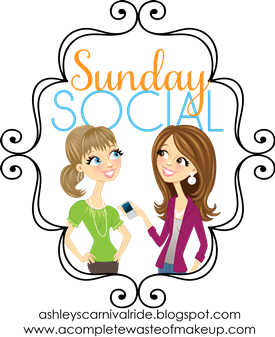 1. What do you miss most about being a kid?
I miss being tucked in every night. I am still desperately trying to convince Pedro to move back in with my parents. Their house is ginormous so it would be totally fine and we would have free rent, Fios internet and like 3,000 channels. Not to mention my mom could tuck me in every night!

I did not have a nickname. I tried to give start spreading around that my nickname was J.Lo but that failed miserably and made me look like a fool. So yeah, that backfired a bit.
3. What was your favorite thing to do at recess?
I distinctly remember in 3rd grade "playing" Spice Girls and it was the clique-iest thing ever. Your day was ruined if you weren't included and/or were stuck being Sporty Spice.
4. What did you want to be when you grew up?
I wanted to be a UN ambassador since I was like in fourth or fifth grade? I was one of those kids who was obsessed with genocides (and by "one of those kids" I mean the .04% of kids obsessed with genocides who did NOT end up becoming serial killers in adulthood). I would read up on them, watch documentaries... my mom was a little worried because it was a SUPER weird thing to do and talk about over dinner, but I think I ended up OK... right Mom?
5. Did you participate in any school activities?
My French ID card. This is the youngest pic of
me I could actually find on my computer.
Look at those cheeks!
Ha, obviously. I was a geek, remember? Well, I remember being a geek. I think I got "cool" in Senior year and it was totally worth the wait. I also didn't participate in any activities until like Junior year and it was only to look good for college. I was the editor of my high school newspaper and I was the president of the Social Justice Club. It was an enthralling youth.
6. What is the funniest thing you did as a kid that your parents still remind you about?
I would fall asleep eating. My parents would be feeding me and I would just pass out. Luckily it was just yogurt and so I would just drool it out anyways.
My grandparents used to love this story. One time I was watching a football game at a bar with my grandfather and I asked really loudly, "Why are they all African American" and apparently the whole bar thought it was hilarious. I am just proud that I was politically correct at a young age despite having pretty un-PC grandparents.