It's Sunday which means it's time again for Sunday Social. Sunday is apparently the only day I actually am social especially considering because I literally did not leave my parent's house yesterday. I had great plans for myself: going to the gym, hitting up the Dollar Tree, maybe getting some froyo. Then I discovered my parents had Lifetime Movie Network and I got a glass of some milk in me and all of a sudden nap time happened and then it was 9pm and I was gone for the night. And I quite literally did not utter a single word to a human being that entire day.
It was fantastic.*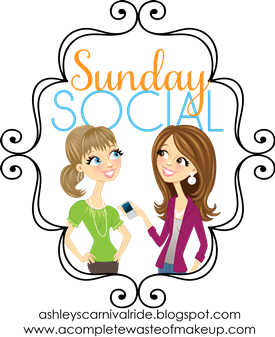 1. What was your favorite trip/vacation/activity this summer?
Definitely New York City, mainly because it was the only trip/vacation I took. It was also a lot of fun and I ate a lot of food which for me is always a good time.
2. What was your favorite outfit look/clothing item of the summer?
I was just a fan of not having to put socks on every morning. Socks is such an extra step for me that, while necessary, seems so time consuming and just a complicated task for the early morning.
3. What is one thing you wish you'd gotten to do this summer?
How about going to the beach? Or like swimming in general? Yeah, none of that happened. THANKS summer school/work!
4. What was your favorite song of the summer?
It changes every day. I know everyone is going to probably say "Blurred Lines" BUT I really liked Little Mix's new song basically because it reminds me of the 90's and I really enjoyed that period.
5. What was your favorite movie/tv show of the summer?
I found Orange is the New Black this Summer so I am counting that. I stalk the actresses online and randomly Google images of them when I can't sleep at 4 in the morning. My favorite character is Daya:
Also on a side note did you know that Jackie Cruz who plays Flaca is also the same girl that Kourtney Kardashian decided to make out with on Khloe and Kourtney take Miami? I bet you didn't....
Anyways that's it for me- I gots to get back to my work because suddenly I have my clinical internship and school this week. When did that happen?
Goodbye Summer. You weren't really that memorable or even that exciting but I had some pretty epic naps and caught up on my Lifetime movies, so a good time was obviously had by all.
*I would like to clarify that although I sound like a recluse shut-in, I am not (though it isn't something I will completely rule out for my future, either). I just enjoy solace and have a job where getting yelled/bitched at is the norm and sometimes, I like to hibernate in my room for long periods of time with a sleeve of Oreos and a half carton of milk.